We're excited to announce the official release of Cameron's new novel, The Young Garden Manifesto!
From our press release:
"The Young Garden Manifesto utilizes an innovative split narrative structure to tell the story of a young man seeking love and a new life for himself in New York City. The novel combines elements of fantasy, poetry, and contemporary fiction, weaving disconnected parts into a genre defying tapestry of thought and emotion. This deep, challenging work is likely to please fans of literary authors such as Haruki Murakami and David Foster Wallace."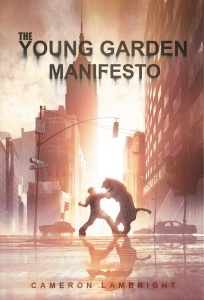 You can purchase The Young Garden Manifesto in print or e-book format. For print format, you can order the book from Amazon or order autographed copies of it from our website. It will also be available in select local brick and mortar bookstores very soon. E-book versions are available for the Kindle, Nook, Kobo, and iBooks readers, and can be purchased from their respective websites.
Watch Cameron talk about the book here: http://youtu.be/6WJxnjS1EPA