We are proud to announce that on April 16th we will be releasing our third book, a deluxe edition of Maurice Thompson's classic archery treatise The Witchery of Archery.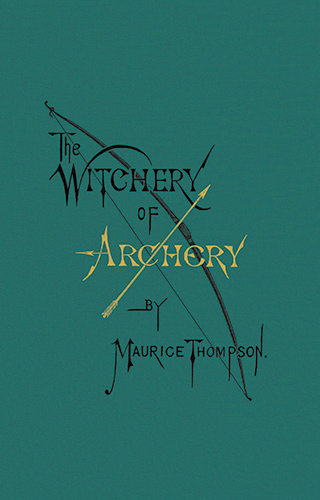 April 16, 2016
The Witchery of Archery, by Maurice Thompson, was originally published in 1878 and is considered America's classic treatise on the subject of archery. It can be compared to Izaak Walton's legendary fishing treatise, The Compleat Angler. This new edition, from Incandescence Press, includes a new introduction, notes, and author bio, as well as a beautiful new typesetting that closely replicates the 1878 original.
Maurice Thompson was considered, in his own time, among the most important authors of the "New South" in the United States. He grew up in North Georgia, fought for the Confederacy as a teenager during the Civil War, and moved north to settle in Indiana during the period of Reconstruction. His life was indelibly colored by the adventures he and his brother shared in their youth, hunting with longbows in the swampy wildernesses of Florida and Georgia. The Witchery of Archery, which recounted these adventures and inspired America's first archery boom, wove together Thompson's unique literary, poetic, narrative, and sporting talents into their most enduring form. The book was an instant hit throughout the United States when it was published, and has enjoyed a cult reputation within the American archery community ever since.
This Incandescence Press edition of The Witchery of Archery contains all of the book's original illustrations and text, including the full Appendix, as well as an additional chapter (Chapter XVII) that was added to the 1879 Second Edition.
The book will be available in hardcover ($24.99) or softcover ($14.99) from our wholesale distributor Ingram Book Group, as well as Amazon.com and directly through our own website.